Gary Stevens Landscape: Tree Removal & Trimming Service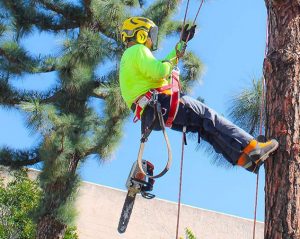 Properly taking care of the shrubs and trees on your property can add substantial value to your yard and home. Well-cared-for trees not only offer shade and privacy but can also pay dividends in the long run by adding the much-sought-after curb appeal to your beloved property.
We at Gary Stevens Landscape work only with certified and highly trained tree experts as we know that neglected trees are not only unattractive but can also become a huge liability. However, trimming and removing trees should be done only by specialists or people that know in-depth a tree's needs.
Our Tree Trimming & Removal Services
Since we know that pruning, trimming, and removing some trees can be risky work for a homeowner, we now provide a variety of services to help you safely keep your greenery in top shape. These services include:
Tree Pruning
We identify and remove diseased, dead, or infested limbs that pose a risk to the tree's overall health;
We prune, elevate, and train young trees to allow enough air movement to keep both shade seekers and the shrubs around them content;
We clip away branches that might touch roofs, wires, windows, or obstruct the street or your view;
We reshape existing trees to boost their wind resistance and resilience during heavy winds and storms;
We reshape existing trees to make them more aesthetically pleasing;
We cut away and thin any unnecessary limbs.
Tree Removal
Tree Removal should be done only as a last resort and under strict professional supervision. Our technicians can assess if the circumstances make the tree removal necessary and have the skills and tools to safely get the job done. We recommend removing a tree only if:
The tree is irremediably hazardous to human life or property;
The tree is irreparably insect-infested, diseased, dead, or dying;
Pruning alone cannot prevent the tree from causing major obstruction;
The tree might hamper the growth of or cause harm to nearby trees and plants;
The tree must be taken down for the site to be cleared for construction;
The tree has been turned into a liability by a windstorm, so removal is necessary to prevent it from landing on people, cars, homes, or nearby trees.
Even if you have a green thumb and know more about trees than the average homeowner, we highly recommend leaving the trimming and removal work in the hands of professionals. Severely damaged trees might pose a serious threat to your life when done improperly. Plus, only an expert can accurately assess when and how to trim a tree and whether removal is advisable.
Our Shrub Trimming & Hedging Services
Giving your trees an annual haircut is critical for their health and growth but while you're at it, don't forget about your shrubs, hedges and other plants in need of some pruning and trimming every now and then. Our landscaping experts can help you keep your green infrastructure in top shape without forgetting about the little guys. With us, your flowers, shrubs, and hedges will get all the pampering they need.
Don't Hesitate to Contact Us!
So, are you looking for a professional tree removal & trimming service company in your area that truly loves trees and won't make you break the bank if you ask them to care for them? We're here to help! Get a no-obligation Free Estimate of our tree removal and trimming services, Contact Us or simply give us a call right now. We're looking forward to working with you!
---
Find the information you need? Then fill out our Free Estimate form and one of our team members will contact you to discuss your lawn care needs. Still have questions? Feel free to Contact Us. We are always happy to answer any concerns you may have. For Fastest Service, give Gary Stevens Landscape a call at 424-329-3595.