Commercial Irrigation Systems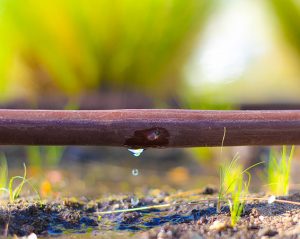 Your landscaping and water bill scream for professional irrigation. Why choose Gary Stevens Landscape over the other guys to take care of all the irrigation installation and maintenance jobs on your commercial property? To give your landscaping a big image boost and your water costs a huge trim, you need a professional company that has the expertise and knowledge to install and maintain an irrigation system from start to finish without a hitch. We've been around for more than 30 years, so we have the technicians, tools, and expertise to handle all irrigation issues that might arise on a commercial property.  Here's what we can do for you.
Irrigation Installation
If you are a property owner or manager, you might wonder why an irrigation system is so important for your landscaping. A properly installed and functioning irrigation system can dramatically lower your water bill because you will be the one in charge of how much water is really required to keep your landscaping green and healthy. A beautiful lawn and landscape design can boost the value of your commercial or office buildings, condos, apartments, and healthcare facilities, which can only benefit a business or organization.
To ensure that an irrigation system functions smoothly, we will need a plan first, so expect from our experts to conduct a full evaluation of your property to properly assess:
Soil type and density
Microclimate, if any
Water location and pressure
Property particularities, like size, elevations, and shade
Ideal flow rates depending on the vegetation
Types of plants and plant location
Tree and shrub root depth.
These details will be used to create an irrigation system layout that best matches your property and green infrastructure. Our irrigation experts will next set up the irrigation system based on that design's specifications. Having your commercial irrigation system installed right the first time is critical for its performance and your bottom line.
Top Benefits of Expert Irrigation Installation
Asking a team of experts to come over and install that irrigation system comes with plenty of benefits:
The system is properly installed from the start
No issues with coverage and water waste
The system is uniquely tailored to your property's needs
Low maintenance for a worry-free operation
Smaller water bill: Conserving groundwater translates into significant savings on your water bill
Greenery and landscape stay hydrated, healthy, and beautiful
Higher property value: Expert irrigation installation is a surefire method to enhance your commercial property's curb appeal
Maintenance and Repair
Does your irrigation system need a check-up or repair? Our experts are here to help! From faulty drip lines and commercial valves in need of repair to irrigation controllers in need of calibration and proper programming, we've got you covered. Our team can monitor your irrigation system year-round to ensure that it works perfectly as it was supposed to.
We'll also provide any maintenance work upon request, such as:
Adjusting the sprinkler system to make sure that every inch of greenery gets the right amount of hydration without a drop of water going to waste.
Replacing leaky heads, faulty nozzles, and old valves to boost the system's efficiency
Boosting controllers' performance
Diagnosing and troubleshooting your system's electrical components.
Seasonal irrigation system startup
Coverage Area
At Gary Stevens Landscape we make sure we cover your landscape in a manner where it will not hurt your water bill. We customize each sprinkler system to provide your specific needs.
---
Find the information you need? Then fill out our Free Estimate form and one of our team members will contact you to discuss your lawn care needs. Still have questions? Feel free to Contact Us. We are always happy to answer any concerns you may have. For Fastest Service, give Gary Stevens Landscape a call at 424-329-3595.