Gary Stevens Landscape: Lawn Maintenance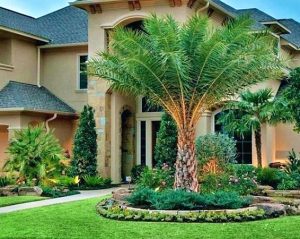 We take the drudgery out of the yard work and have the expertise and tools to transform even some of the most stubbornly weed-infested wastelands into plush and lush green lawns where our clients can relax with their family and friends. With us, you no longer have to worry about mowing, trimming, pruning, mulching, (re)seeding, weeding, or equipment failure and maintenance. We'll take care of all the hard work so that you can enjoy the nice weather.
Our Lawn Maintenance Services
While we can build a beautiful and versatile landscape from scratch, we can also ensure that your garden and lawn get the proper nourishment and pampering they sometimes desperately need. We will also perform seasonal maintenance work like tree and shrub trimming or lawn mulching so that your green infrastructure preserves its best features and can develop to its full potential.
Here's what we can do for your lawn and garden:
Regular mowing depending on your and your family's schedule and needs;
Tree and shrub trimming plus regular hedging;
Seasonal mulching – we use only eco-friendly materials on your flowerbeds and trees to keep your lawn safe for your kids, pets, soil, and groundwater;
Irrigation system repair, upgrade, and maintenance;
Planting new greenery and transplantations;
Weed and pest control services;
Fertilization and monitoring of your lawn's environmental conditions, such as soil depletion, water saturation, drought impact, and even pollution;
Shrub and tree care service;
Spring and fall cleanups;
When it comes to mowing, our schedule is very flexible. Our default mowing service is set on a weekly basis, but you have the biweekly option at hand. Weather permitting, we we'll be taking care of your lawn around the same time every week since regular mowing is the best for the health of your turf grass and lawn.
In spring, our experts recommend giving your lawn a fresh shave every week as vegetation is waking up from the winter slumber and needs to be cut more frequently to stimulate growth. In summer, you can switch back to a bi-weekly schedule.
Why Choose Gary Stevens Landscape Over Competition?
What makes our lawn care services stand out is our crew's professionalism. We work only with dedicated professionals that have great attention to detail, take every job no matter how small in full seriousness, are approachable and easy to communicate with.
Also, scheduling an appointment or evaluation of your property with us is a breeze as our response time to your inquiries is less than 48 hours. And if we haven't convinced you yet, here are 10 more reasons to hire us as your go-to lawn care service provider:
All our staff members are certified, licensed, and highly trained;
The tools and materials we use are always of great quality;
We'll get the job done how we said it and when we said it – no surprises;
In everything we do, we strive for a high quality of the service while being respectful of our clients' budget;
You will always be greeted with friendly and professional staff;
Our response times to our customers' inquiries are above industry standards;
We pride ourselves on the excellent communication relationships with all our clients;
Our clients' needs, wants and concerns are our top priority – if you're not 100% satisfied with our work, we'll make it right for you;
We offer some of the most cost-effective services in our service area without cutting corners;
Our prices and quality of service are hard to beat.
So, are your ready to turn that lawn into a mulched lush green paradise? Put us to the test!
---
Find the information you need? Then fill out our Free Estimate form and one of our team members will contact you to discuss your lawn care needs. Still have questions? Feel free to Contact Us. We are always happy to answer any concerns you may have. For Fastest Service, give Gary Stevens Landscape a call at 424-329-3595.