Commercial Tree Trimming & Removal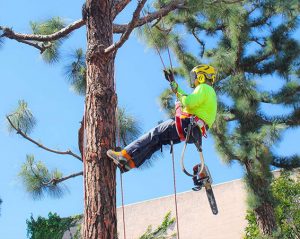 Owning or trying to properly manage a commercial property comes with great responsibility as your clients, tenants, workers, or condo owners count on you to maintain its curb appeal and overall safety. In this part of the state, no tree or shrub is safe as the area is often swept by some of the strongest winds in the nation.
So, a tree that's about to fall is not only an eye sore but can also become a huge liability. If your commercial property has trees that need to be trimmed or cut down, don't hesitate to ask professionals for help, especially when heavy winds and storm are about to pay a visit. Professionals at Gary Stevens Landscape have the skills, certification, and tools to effectively take care of the issue while keeping you and your possessions safe.
For a commercial property, it is always a great idea to work with a licensed tree service company to safely get the job done. It could cost you more in the long term if you choose to hire non-professionals only because they are "cheap". You might face a costly surprise when you learn that they are uninsured. What's more, as a property owner or manager you are responsible of the safety and well-being of everyone using and living on your property, along with the safety and well-being of your neighbors. So, don't cut corners, and hire a fully licensed and insured firm.
Gary Stevens Landscape is fully certified, bonded, and insured. We employ only full-time workers, highly trained climbers, and tree experts. All our crew members are covered by workers' compensation insurance, so our clients don't have to worry about a thing while staying safe.
Your Safety is Our Top Priority
Our team is specialized in:
Tree removal: A damaged tree, a diseased tree, or a dying tree is no longer safe to keep on your property but telling when a tree should be removed takes knowledge and practice. Removing a tree should be only a last-ditch solution, after everything else has failed. If a tree poses a risk to human life or property in severe storms, it needs to be cut down. Unkept trees can damage windows, wires, roofs, cars, and outdoor living spaces. Hire a team of professionals to get that tree down before it is too late.
Tree trimming: Only an expert can correctly identify a diseased or dying tree, spot the infested limbs that might affect the health of the tree, and come with the right solution. Tree trimming means more than hacking away some unsightly branches. If they are not properly tended, trees can die. We recommend hiring a tree expert to get the job done safely and ensure the long-term well-being of your property's trees.
Seasonal cleanups and debris removal: We at Gary Stevens Landscape pride ourselves on the quality of our work as we don't consider the job to be done until the site is cleared of debris and yard waste. We won't leave until our clients' property looks better than it did when we first got there.
Landscape weather prevention: Give us a call, and we'll review your property and diagnose all the problem areas where trees can become a liability in case of storms or strong winds. Our tree technicians can design a plan for removing or trimming a tree, so your property and goods stay safe during heavy storms or strong winds. Feel free to request a Free Estimate of our commercial tree services, before we get down to business. With us, you and your property will be in the best of hands.
---
Find the information you need? Then fill out our Free Estimate form and one of our team members will contact you to discuss your lawn care needs. Still have questions? Feel free to Contact Us. We are always happy to answer any concerns you may have. For Fastest Service, give Gary Stevens Landscape a call at 424-329-3595.