Professional Commercial Landscaping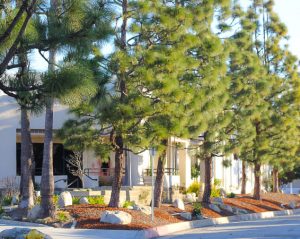 We at Gary Stevens Landscape are fully aware that you, as a business owner, have invested your hard-earned cash, time, and effort in your enterprise, so investing a bit more in your business property by upgrading or properly caring for a lawn or yard can only add further value to your business. Don't you want to see first hand what a healthy lawn and several well-designed and strategically placed hardscapes, such as a high-impact retaining wall, some eye-catching flowering shrubs, and other specialty site furnishings can do for your commercial property? Put us to the test!
For over 30 years, Gary Stevens Landscape has been building and maintaining outstanding but fully functional commercial landscaping in the greater Los Angeles , Orange county, and surrounding areas. From professional landscape planning and installation services to round-the-clock expert maintenance for our clients' lawns, shrubs, trees, and flowers, along with tree removal, trimming services and seasonal cleanups, there's no job too big or too small for us. Everything will be expertly taken care of in a timely fashion, within budget, and according to your vision or plan, as we like to leave nothing to chance.
Commercial Landscape Design and Installation
If you would like your commercial property to shine bright among competitors and bring more foot traffic to your business, a professionally designed and installed commercial landscape is a must. A landscape that is perfectly manicured and sustainable not only enhances the looks, market value, and functionality of your commercial property, but it is also a testament to your business' high standards of professionalism, organization and workmanship.
Year-Round or One-Time Landscaping Services
Gary Stevens Landscape offers both regular landscape maintenance services and one-time landscape makeovers. The idea is to build a commercial landscape that will help the business grow, convince more potential customers to flock to you, and boost your brand's overall appeal. Our crew of highly trained and certified professionals will deliver all the landscaping services needed for your business to thrive and grow, including but not limited to:
Softscapes: Decorative flowers and shrubs, tree and shrub maintenance and care, mulching, weeding, edging, and sodding, landscape lighting and more
Seasonal services: Flower planting, lawn dethatching, fertilization, and irrigation, ground aeration, professional spring and fall cleanups.
Request a Free Estimate Today!
Gary Stevens Landscaping is committed to bring above-standard landscaping services to all private businesses in its service area, including stores, hotels, restaurants, office buildings, condo complexes, and more. We work only with licensed and insured professionals to ensure that every task is carried to completion on time, within budget, and as planned.
We know that running a business can be sometimes packed with unpleasant surprises, so we like to keep in touch with our customers throughout the design, planning, and construction phases to ensure that their vision comes to life with no surprises, for their complete and total satisfaction.
---
Find the information you need? Then fill out our Free Estimate form and one of our team members will contact you to discuss your lawn care needs. Still have questions? Feel free to Contact Us. We are always happy to answer any concerns you may have. For Fastest Service, give Gary Stevens Landscape a call at 424-329-3595.